Fun Christmas Printables For Kids.
You will find a variety of printables of free Christmas activities for kids here. These activities are intended to assist you with your Christmas thematic unit in your classroom and to make your teaching more enjoyable. Our printables Include materials like coloring pages, worksheets, games, and templates that may be used at school or at home. Additionally ideal for use in decorative purposes and activities related to arts and crafts. Appropriate for use in preschools as well as kindergartens and primary schools.
You are free to use these printables in accordance with your requirements and to distribute them to your fellow teachers.
Elevate the holiday spirit with Christmas coloring pages tailored for preschool, kindergarten, and elementary students. These printable activities offer a fun way to explore festive symbols and traditions.
Perfect for both classrooms and homes, these coloring pages introduce kids to Christmas trees, Santa Claus, and more, enhancing fine motor skills and hand-eye coordination.
Ideal for keeping children engaged on Christmas morning, these pages are a valuable educational tool for teachers and homeschoolers. They not only teach holiday symbols but also promote creativity and family bonding as parents and grandparents join in the coloring fun.
Christmas worksheets printable for kids are a valuable resource for teachers, parents, and children. They provide a fun and engaging way for children to learn about the holiday, reinforce important skills, and foster creativity and teamwork. Here in Planerium we designed resources for Kindergarten , first and second grade students. Include: Christmas patterns, Christmas color by number, counting, scramble words,  gingerbread world, Christmas story and more.
Fun Christmas Activity Pages For Kids
Get 18 engaging activities compacted to save paper and costs, perfect for grades 1-3. Enjoy coloring pages, crafts, and a variety of educational activities like word games, math challenges, and more! All you need are colors and scissors to start the fun. Perfect for Christmas Break! 🌟📚🖍
Christmas games printable for kids are an excellent way to keep children of all ages, including kindergarten, first, and second-grade students, engaged and entertained during the holiday season. These games can be easily downloaded and printed and can be used in the classroom as a fun and interactive way to supplement regular instruction and provide additional practice for students. They can also be used at home as a way to keep children entertained and promote educational activities. Include Christmas memory game, Christmas sudoku, Christmas word search, Christmas connect the dots and more.
Christmas Gingerbread Cookies Memory Game:
Fun Family Time!
Discover the holiday's symbols with our vibrant memory game! With 36 pieces of 2.3×2.3 inch cards, this PDF game is suitable for all ages. Just print, cut, and play! For lasting use, print on cardstock or laminate. Instructions included. 🌟🔍🃏
Children of all ages can benefit from using these Christmas templates since they are a resource that can be used in a variety of ways and is fun to use. Children can develop their creativity, learn about the holiday, and strengthen their relationships with their families while participating in these activities, which are entertaining and educational. Children can use the templates to create their own versions of holiday-themed crafts, such as paper ornaments, a gingerbread house, a Santa hat, the bell, and other Christmas symbols.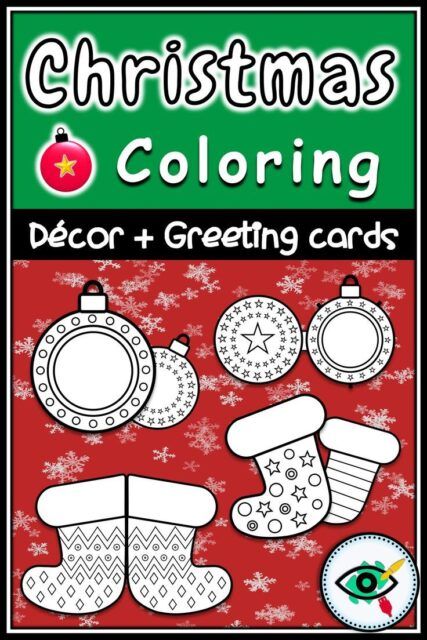 Christmas – Creative Coloring Pack –
Lights and Stockings
Christmas coloring activity that kids love, with lights and stockings. Various patterns to choose from for arts and crafts activities, decorating, making greeting cards, and more. Include 40 coloring pages provided in PDF file format…   🌟🔍
Celebrate the holiday season with Christmas Crafts suitable for kids of all ages. Our black-and-white greeting cards, paired with engaging cut-and-glue activities, provide a personalized touch to festivities. Whether in kindergarten or elementary school, these crafts offer an inclusive and age-appropriate way for children to explore and express their creativity.
Versatile and enjoyable, these crafts can be easily incorporated into both classroom and home settings. The black-and-white greeting cards, designed for coloring, allow kids of various ages to add their unique flair, enhancing fine motor skills and fostering a sense of accomplishment.
Teachers and homeschoolers will find these crafts to be a versatile educational tool, making the learning experience enjoyable for all age groups. These activities not only teach about Christmas symbols but also encourage artistic expression, making them a perfect addition to holiday lesson plans.
Celebrate the season with Christmas Crafts that cater to the diverse ages and stages of childhood, creating a shared experience that brings joy to kids of all ages.
Christmas Premium Resources
Our premium teaching resources for Christmas are original. They consist of various teaching activities for students in kindergarten and elementary grades. You can find printable memory games, Sudoku, patterns, activity pages, and clipart.