Happy New Year! As we welcome in the new year, it's a great time for kids to reflect on the past year and set goals for the year ahead. The winter holiday break is a perfect opportunity for kids to have some fun while learning, and there are plenty of New Year's activities that can be done in the classroom or at home as homework or fun activity during the break.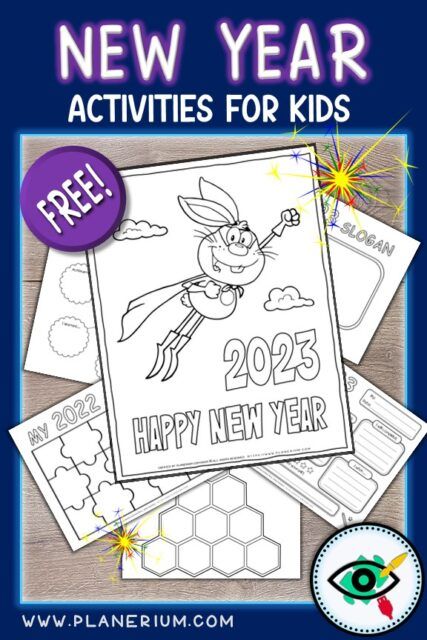 New Year Coloring Pages
Celebrate the New Year with Planerium's coloring pages and posters. Include coloring pages featuring happy new year balloons, party cake, and titles, there's something for everyone. Every year we update our new year printables according to the new year. Choose your favorite and print!
New Year Review Templates
As the new year begins, it's a good time to reflect on the past year and think about what we've learned. Review templates are a great way for kids to do this. Have them fill out a template with their favorite moments from the past year, things they've learned, and goals for the year ahead.
New Year Goals Sheets
Setting goals is an important life skill, and it's never too early to start. Help kids set goals for the new year with a goals sheet. Have them write down specific, achievable goals in different areas of their life, such as school, sports, and personal growth.
New Year Wishing Worksheet
New Year's is all about making wishes and setting intentions for the year ahead. Encourage kids to think about what they wish for in the new year with a wishing worksheet. Have them draw or write about their hopes and dreams for the year ahead.
Bring a touch of color and inspiration to your space with Planerium's new year wishing posters.
These beautifully designed posters feature six colorful greeting cards, each with a different wish for the new year written inside an apple appearing from an open colorful window.
These posters make a great addition to any classroom, office, or home. Hang them up and let the positive messages inspire you to make the most of the new year.
Order your set of Planerium's new year wishing posters today!
New Year Word Search Puzzle Games
Word search puzzles are a fun and educational activity for kids. With a New Year's theme, kids can search for words like "resolution," "goal," and "celebrate" while improving their spelling and vocabulary skills.
Use our Balloon templates with numbers and letters to create a beautiful wall title decoration for the new year: "Happy New Year 2023" or just "2023". Print, color and hang on your classroom wall, or in your home party.
These are just a few ideas for fun and educational New Year's activities for kids. Whether in the classroom or at home, these activities are sure to get kids excited about the new year and all the possibilities it brings.
Happy New Year!
You can use these printables following your requirements
and distribute them to your fellow teachers.