It's that time of year again: back to school! The start of a new academic year represents a new beginning and a clean slate. There is a mixture of happiness and melancholy in the air due to the fact that summer is coming to an end. Some students experience anxiety on the first day of school because they are confronted with a number of new experiences, including new teachers, new classmates, and possibly even a new school. 
As a teacher, you are thrilled and interested in getting to know your new students, and you want to get off to a good start with the new school year. You have a plan to get to know your students better in the first few weeks of the new school year, including their learning abilities, skills, and level. In addition to this, you want them to have a positive attitude while they are in your class and to feel at ease there.
Prepare yourself with a variety of engaging and fun activities that will give you more flexibility and less stress in the classroom so that you can be at your best during the first few weeks of school. This will allow you to perform at your highest level. 
Our collection contains coloring pages, worksheets, games, templates, certificates, and crafts that can be printed for free or for a small fee. These printables are meant to make getting started as simple and fun as possible.
Share your thoughts with us and let us know how you used the resources we provided.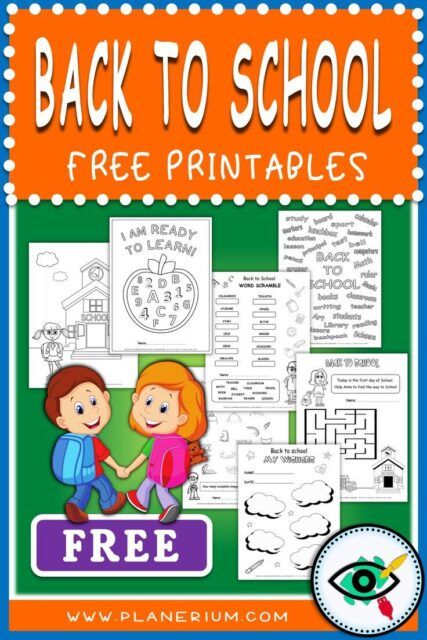 Back to School Coloring Pages
Welcome to our charming collection of "Back to School Coloring Pages"! These engaging sheets include vivid images of familiar school accessories, teachers, and a colorful array of letters for our budding alphabeteers in lower grades in elementary school.
These aren't just ordinary coloring pages; they're a fun-filled stepping stone into the new academic year. They help improve fine motor skills, foster creativity, and serve as a calming activity for those pre-school butterflies. For teachers, these pages provide a delightful teaching tool, encouraging children to explore, learn, and familiarize themselves with school-related concepts in a creative way. So, let's grab those crayons and embark on a vibrant learning journey!
Back to school craft & coloring set For Grades 1-2
A delightful pack of coloring and craft activities designed to celebrate the first day or week of school for students in grades 1-2. This set is perfect to create a vibrant and interactive learning atmosphere, where students get to showcase their creativity and express their excitement about the new school year.
Back to School Worksheets
Welcome to our comprehensive collection of "Back to School Worksheets"! This assortment features a diverse range of activities, all designed to jump-start the educational journey of your elementary school students in a fun and engaging way.
Our worksheets span from intriguing school accessory patterns that help kids identify and understand repetitive sequences, to thrilling school scrambles that challenge them to unscramble words, enhancing their language skills. With engaging writing activities, we encourage the young minds to express their thoughts and ideas while developing their penmanship.
We also understand the importance of personal identity and self-awareness in these formative years, which is why our 'All About Me' worksheets are a highlight. These sheets encourage children to explore and share their unique qualities, fostering self-esteem and camaraderie in the classroom.
Teachers, consider these worksheets as your secret weapon for creating a dynamic, interactive learning environment. Not only do they cover important academic concepts, but they also promote critical thinking, creativity, and self-expression among students. So, let's dive in and kickstart this exciting new school year together with our "Back to School Worksheets"!
Say hello to our exciting collection of "Back to School Games"! These games are perfect for kindergarteners and elementary school students, offering a range of activities that are not just fun but educationally enriching as well.
This collection includes captivating word search puzzles that will help kids improve their spelling and vocabulary while they hunt for school-related words. We've got connect-the-dots games that not only entertain but also enhance fine motor skills and number recognition. For the logic-lovers, we offer sudoku puzzles, tailored to suit young minds, which challenge them to use their reasoning and problem-solving skills.
And let's not forget our memory games! These are a hit with kids, helping to boost their cognitive abilities while they match pairs of colorful school accessories.
Teachers, these games make excellent tools for stimulating a love of learning. They can be used as ice-breakers, team-building activities, or as rewards for good behavior. With our "Back to School Games", you can create an environment that encourages active engagement, develops essential skills, and most importantly, lets children learn while having a blast. Let the games begin!
Introducing our vibrant collection of "Back to School Templates"! Specifically designed for kindergarteners and elementary school students, these templates serve as the perfect canvas for arts and crafts activities and to spruce up your classroom.
Our collection features a variety of themes that kids will adore, from fluffy clouds to adventurous hot air balloons, from colorful butterflies to playful depictions of boys and girls. Plus, we've included staples of school life like creatively designed pencil templates.
These templates encourage your students to let their imagination run wild while improving their fine motor skills, learning about shapes, colors, and patterns, and expressing their artistic flair. They can color, cut, and design each template to create unique art pieces for classroom decoration, giving them a sense of belonging and pride in their learning environment.
Teachers, these templates can also be used as effective teaching aids. They provide a hands-on, interactive approach to learning that not only stimulates creativity but also promotes active engagement. Let's kick off this new school year with some artistic fun with our "Back to School Templates"! Let the crafting begin!
Motivational and Encouragement
Student Sticker Labels
Motivational Encouragement Sticker Labels Printable. Uplift and inspire your students with these Motivational Encouragement Sticker Labels. Designed to help teachers foster positive relationships with students, these labels are perfect for recognizing good behavior, academic achievement, or simply for saying thank you at the end of a lesson or week. They are also a great way to show your students and their parents that you care, despite the busy classroom schedule.
About Me Chain Craft: A Personalized Back-to-School Activity for Grades 3-5
Kickstart the new school year with our "About Me" Chain Craft Activity – a wonderful way for students to introduce themselves to their new teachers and classmates. This personalized activity encourages self-expression and creativity, as students in grades 3-5 create a vertical chain filled with facts about their identities and personalities.
The students are provided with basic black-and-white templates to sketch, color, and design their individual chains as per their personal preferences. With the option to choose from a variety of templates or even create their own, this activity is a testament to flexibility and imagination.
To get started, all that's required are scissors, glue, pencil, and colors. Once completed, these uniquely expressive chains make for great classroom decor, creating a warm and welcoming atmosphere.
Back to School Premium Resources
Our premium teaching resources for back to school period are original. They consist of various teaching activities for students in kindergarten and elementary grades. You can find printable memory games, Sudoku, patterns, activity pages, clipart, and posters for class decoration.