Jewish Holidays – Creative and Educational – Mega Bundle
Sale!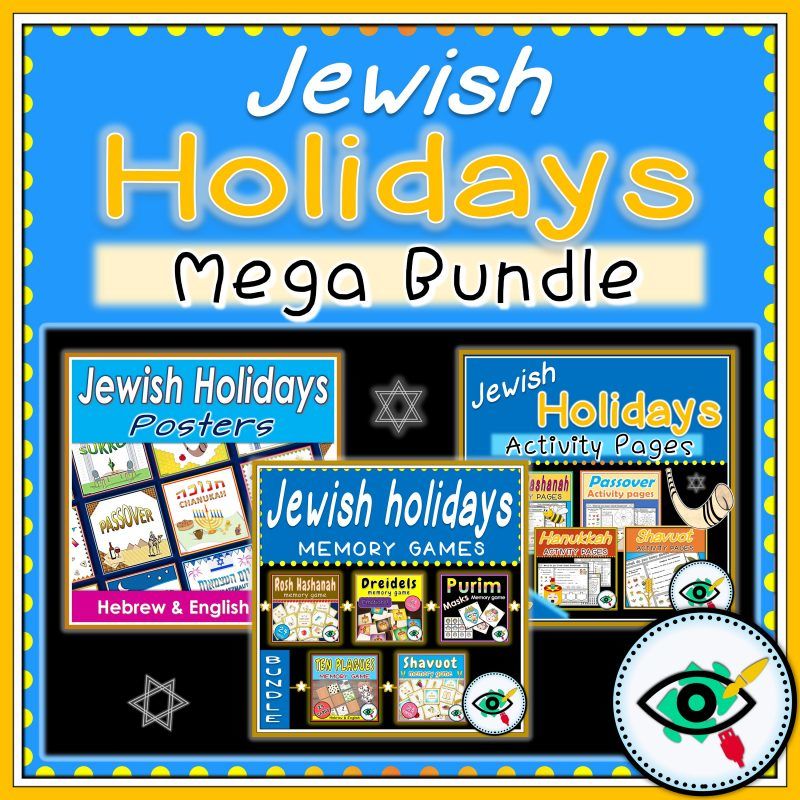 Add to wishlist
Added to wishlist
Removed from wishlist
1
This is our highly valuable Jewish holidays Mega-Bundle
Include 10 Educational resources and games
This Mega-Bundle will give you enough activities for the whole family
during the main Jewish holidays: Rosh Hashanah, Hanukkah, Purim, Passover, and Shavuot
This Mega-Bundle is now At a great price with a 20% discount on all the bundled products!
Purchase this product and earn 30 Reward points!
Specification:
Jewish Holidays – Creative and Educational – Mega Bundle
Jewish holidays posters
| | |
| --- | --- |
| Copyright License | CC BY-NC-ND |
| Brand / Store | Planerium |
| Language | English |
| Seasonsal | Hanukkah, Passover, Purim |
| Product Type | Poster |
| Format | Printable |
| Theme | Class Decoration |
| Grades | 1, 2, 3, 4, 5, 6 |
| Ages | 4, 5, 6, 7, 8, 9, 10, 11, 12 |
| Colors | N/A |
| Food Textures | N/A |
| Product File Size | 40MB - 45MB |
| Utilities & Materials | Glossy Paper, Printer |
Rosh Hashanah Activity Pages
Passover Activity Pages
| | |
| --- | --- |
| Copyright License | CC BY-NC-ND |
| Language | English |
| Brand / Store | Planerium |
| Seasonsal | Passover |
| Product Type | Activity Pages |
| Format | Printable |
| Theme | Activities, Coloring, Logic, Reading, Writing |
| Grades | 2, 3 |
| Ages | 6, 7, 8, 9, 10 |
| Product File Size | ~4MB |
| Colors | Green |
| Food Textures | N/A |
| Utilities & Materials | Color Pencils, Pen / Pencils, Printing Paper, Ruler |
Hanukkah - Worksheet Collection
Shavuot Activity Pages for Kids
Rosh Hashanah - Matching Game
| | |
| --- | --- |
| Copyright License | CC BY-NC-ND |
| Brand / Store | Planerium |
| Ages | 4, 5, 6, 7, 8, 9, 10, 11, 12, All Ages |
| Seasonsal | Rosh-Hashanah, Tishrei Holidays |
| Theme | Activities, Patterns |
| Product File Size | ~3MB |
| Language | English, Hebrew |
| Colors | Brown |
| Format | Printable |
| Food Textures | N/A |
| Utilities & Materials | Cardboard, Lamination, Printer, Scissors |
| Product Type | Memory Game |
| Grades | KG, 1, 2, 3, 4, 5 |
| Shapes | |
Hanukkah - Matching Game - Emotional Dreidels
| | |
| --- | --- |
| Brand / Store | Planerium |
| Copyright License | CC BY-NC-ND |
| Seasonsal | Hanukkah |
| Theme | Activities, Game |
| Product Type | Memory Game |
| Product File Size | ~2MB |
| Language | All Languages |
| Colors | Blue |
| Format | Printable |
| Utilities & Materials | Cardboard, Lamination, Printer, Scissors |
| Shapes | |
| Ages | 4, 5, 6, 7, 8, 9, 10, 11, 12, All Ages |
| Grades | PK, KG, 1, 2, 3 |
Purim - Matching Game - Book of Esther Characters
| | |
| --- | --- |
| Copyright License | CC BY-NC-ND |
| Language | English |
| Brand / Store | Planerium |
| Seasonsal | Purim |
| Product Type | Memory Game |
| Format | Printable |
| Theme | Activities, Game |
| Grades | KG, 1, 2, 3, 4, 5 |
| Ages | 4, 5, 6, 7, 8, 9, 10, 11, 12 |
| Product File Size | ~3MB |
| Colors | Blue |
| Utilities & Materials | Cardboard, Lamination, Printer, Scissors |
Passover - Matching Game - Ten Plagues
| | |
| --- | --- |
| Language | English |
| Brand / Store | Planerium |
| Theme | Activities |
| Product Type | Memory Game |
| Ages | 4, 5, 6, 7, 8, 9, 10, 11, 12, All Ages |
| Product File Size | ~3MB |
| Copyright License | CC BY-NC-ND |
| Colors | Green |
| Format | Printable |
| Seasonsal | Passover |
| Grades | PK, KG, 1, 2, 3 |
| Food Textures | N/A |
| Utilities & Materials | Cardboard, Printer, Scissors |
| Shapes | |
Shavuot - Matching Game - Shavuot Symbols
| | |
| --- | --- |
| Copyright License | CC BY-NC-ND |
| Brand / Store | Planerium |
| Language | English, Hebrew |
| Theme | Activities |
| Seasonsal | Shavuot, Spring |
| Product Type | Memory Game |
| Ages | 4, 5, 6, 7, 8, 9, 10, 11, 12, All Ages |
| Product File Size | ~5MB |
| Shapes | |
| Colors | Green |
| Format | Printable |
| Grades | KG, 1, 2, 3, 4, 5 |
| Food Textures | N/A |
| Utilities & Materials | Cardboard, Lamination, Printer, Scissors |
Jewish Holidays – Creative and Educational – Mega Bundle
SKU:

PRER-0000-101
Categories: Bundles, Teaching Resources
Tags: bundles, game, Hanukkah, jewish holidays, memory game, Passover, printable, Purim, rosh-hashanah, shavuot
Add to wishlist
Added to wishlist
Removed from wishlist
1