Spooktacular Fun Awaits: Get Ready for Halloween with Planerium's Printables for Kindergarten and Elementary School!🎃👻📚
Greetings, fellow educators of the little ghouls and goblins! It's that bewitching time of year again when classrooms are transformed into haunted havens, and the laughter of children dressed in fantastical costumes fills the air. Halloween is a magical occasion for kids, and as teachers, we have the power to make it even more enchanting with a little help from Planerium's extraordinary Halloween printables. 🧙‍♀️🦇
In this spine-tingling blog post, we're going to dive into the world of Planerium's Halloween-themed resources, specially crafted for kindergarten and lower grades in elementary school. From ghostly coloring pages to spellbinding worksheets, from captivating games to boo-tiful templates, we've got you covered for a Halloween celebration that will leave your students howling for more! 🎨📝🎮💌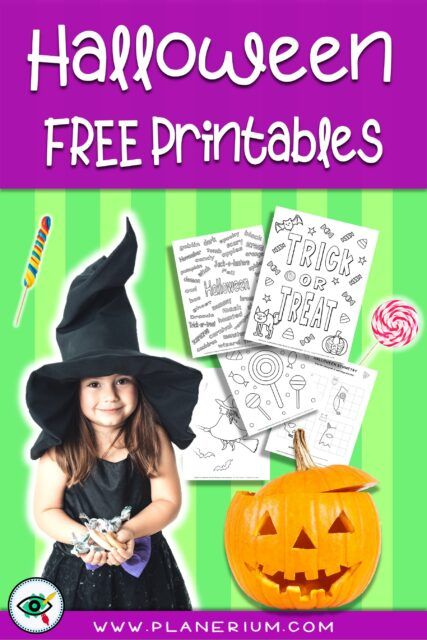 🌟 Why Choose Planerium's Halloween Printables?
Before we embark on our Halloween adventure, let's talk about the fantastic benefits of incorporating Planerium's printables into your lesson plans. 🌟
Engagement Galore: These printables are designed with kids' creativity and curiosity in mind. They offer exciting, Halloween-themed activities that are sure to keep your young learners engaged and eager to participate.
Educational Value: Who said Halloween can't be educational? With Planerium's worksheets and games, you can seamlessly blend fun with learning, covering essential skills in math, language arts, and more.
Time-Saving Magic: As teachers, we understand the value of time. Planerium's printables are ready-made and can be easily incorporated into your lesson plans, saving you precious hours of preparation.
Customizable Goodness: Flexibility is key! You can adapt these printables to suit your teaching style and your students' needs, ensuring a personalized and enriching Halloween experience.
Memorable Moments: Halloween is all about making memories. By using Planerium's printables, you'll create a magical atmosphere in your classroom that your students will cherish for years to come.
🎃 Spine-Tingling Tips for Teachers
As you prepare for the spookiest day of the year, here are some tips to ensure your Halloween celebration is a howling success:
Costume Day: Encourage students to come to school in Halloween costumes. This adds an extra layer of excitement to the day and can be a fantastic conversation starter for writing prompts or imaginative storytelling.
Spooky Stories: Set the mood with eerie read-alouds. Share age-appropriate spooky stories or engage in storytelling activities that ignite your students' creativity.
Creative Decor: Transform your classroom into a haunted haven. Let your students help decorate the space with homemade decorations, bringing a touch of the Halloween spirit into your teaching environment.
Halloween Parade: Organize a Halloween parade within the school or classroom, where each student can showcase their costume and creativity.
Crafts Corner: Include a Halloween craft station with easy DIY projects using Planerium's templates. This will allow your students to express their creativity and take home a special keepsake.
This Halloween, let Planerium's printables be your secret weapon for an unforgettable and educational celebration. Whether it's coloring pages that spark imagination or worksheets that reinforce learning, we've got everything you need to make this Halloween a scream! 
Get ready for a Halloween celebration with Planerium's enchanting coloring pages! We've conjured up a bewitching collection that includes friendly ghosts, grinning pumpkins, mysterious witches, spooky haunted house, and more. These pages aren't just sheets of paper; they're gateways to a world of creativity and imagination. Whether it's kids transforming our witch into a spellbinding sorceress or adding vibrant colors to our playful pumpkins, these coloring pages bring the magic of Halloween to life.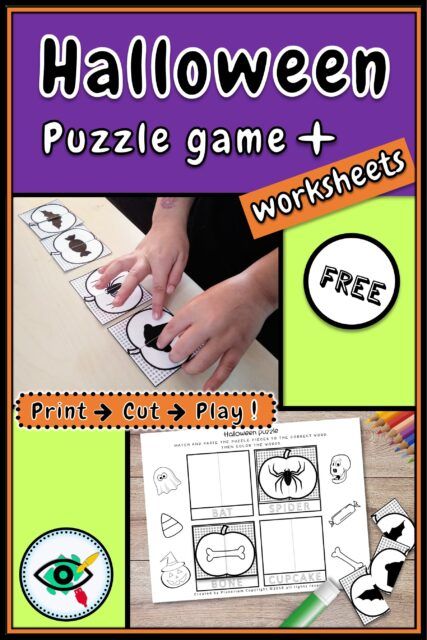 Free Halloween Puzzle Game
Free Halloween puzzle printable is a fun and engaging matching game for your kids. Suitable for little learners from PreK- Grade 1. No preparation is needed; just print, cut, and play!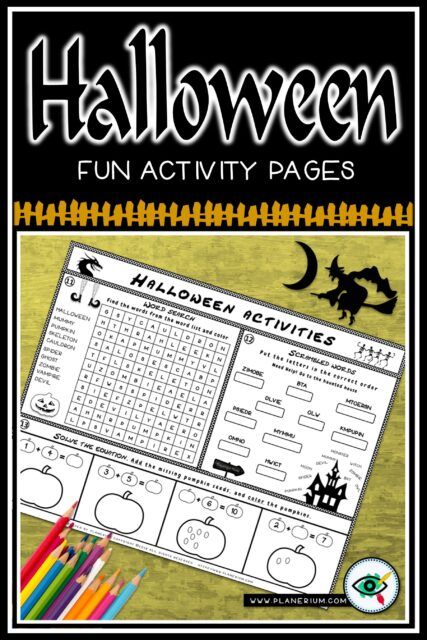 Bring Halloween to life for your students with our Halloween Activity Pages for Kids! This interactive resource packs 13 engaging activities into just four beautifully designed pages. Suitable for lower primary learners, this activity packet provides a combination of learning and fun centered around Halloween symbols, customs, vocabulary, and even some math!
Prepare for Halloween with Planerium's engaging worksheets! From counting spooky ghosts to unscrambling witchy words, our Halloween-themed worksheets make learning a treat. Kids will love practicing math, language arts, and more while embracing the Halloween spirit. Explore our educational Halloween worksheets and add some educational fun to this spooktacular season! 🎃📝👻
Halloween Characters Puzzle Game
Celebrate Halloween with a fun, engaging, and educational activity! This Halloween Characters Puzzle Game provides your students with an opportunity to practice their problem-solving, fine motor skills, coloring, and writing all in one activity. It's suitable for Kindergarten and First Grade levels, as well as homeschooling.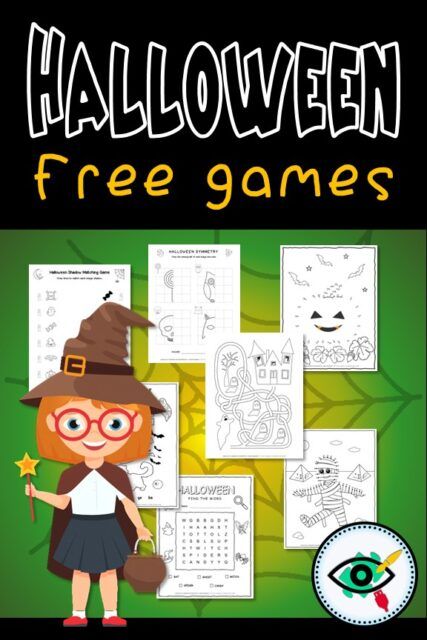 Elevate the Halloween fun with Planerium's exciting games! Dive into a world of symbols with our memory game, test your matching skills with Halloween-themed pairs, and embark on word hunts with our word search puzzles. Our Halloween games offer endless entertainment, combining fun and learning for kids. Explore these engaging activities and add a playful twist to this spooktacular season! 🎃🎮👻
Halloween Masks Printable
Elevate your classroom's Halloween celebration with this set of creatively designed Halloween mask printables! Perfect for students' craft activities, dramatic plays, or classroom decoration, these masks will bring an extra layer of fun and engagement to your Halloween festivities.. For elementary students.
Ignite creativity this Halloween season with Planerium's printable templates for arts and crafts! Our collection features a bewitching array of templates, including owls, apples, candies, bats, skulls, and more. These templates are your key to crafting enchanting decorations, creating delightful treat bags, and sparking imaginative art projects. Explore our Halloween templates, and let your kids craft their way to spooky fun and artistic magic this Halloween! 🎃🦉🍎🦇💀🎨👻
Unleash premium Halloween fun with Planerium's exclusive resources! Dive into a world of creativity with our colorful DIY masks, challenge young minds with Halloween-themed Sudoku puzzles, and engage in playful memory games featuring vibrant Halloween masks. Plus, our spider clipart adds a spooky touch to your projects. These premium resources are the key to taking your Halloween celebrations to the next level. Discover the magic of our paid resources and make this Halloween a truly unforgettable experience! 🎃🎨🧩👻🕷️
As you can see, Planerium has Halloween covered from spooky coloring pages to engaging games, creative templates, and premium resources. We've conjured up a magical blend of education and fun that will make this Halloween season truly special for kids.
But the magic doesn't have to end here! Share this post with your friends and fellow teachers, so they too can discover the enchantment of Planerium's Halloween printables and resources. And don't forget to follow us on Pinterest, where you can find even more inspiration and ideas for your Halloween celebrations.
Let's spread the joy and make this Halloween a memorable and educational experience for children everywhere. 🎃👻📚💫
Happy Halloween, and may your celebrations be filled with laughter, learning, and lots of spooky surprises!